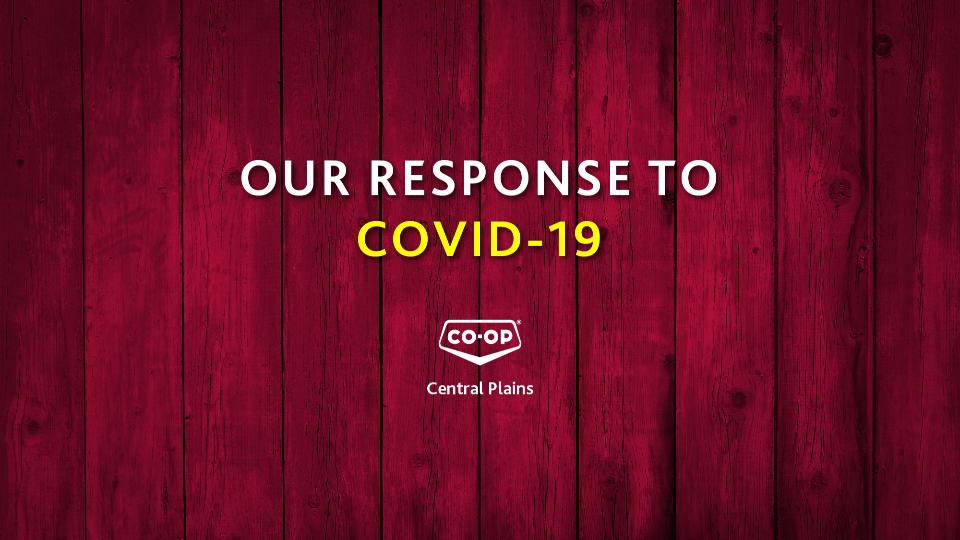 Our Response to COVID-19
October 26, 2021
*Please refer to the bottom of this article for the Central Plains Co-operative Ltd. COVID-19 Mask Compliance Policy*
As the COVID-19 situation evolves, we are keeping true to our value of being community-minded through integrity and taking every measure to protect our customers, staff and communities. We have been monitoring the situation through the Government of Canada as well as local government and public health authorities to ensure we are making appropriate, timely and informed decisions.
We understand the vital role we play in the community and aim to serve you with the items you need, when you need them. It is also imperative to take personal responsibility and remain vigilant during this time. We are doing our part to flatten the curve and prevent the transmission of infection within our community.
We are taking the following precautionary measures:
Our stores are cleaned and sanitized daily as part of normal business, and we have increased the frequency and intensity of cleaning practices, especially on high-touch surfaces. There is a shortage of wipes right now, so you may not see any to wipe down your cart handle when you arrive. Please know that our staff are personally disinfecting each cart and basket frequently.

We have provided our team members with current information on prevention so they can stay healthy or stay home if they are feeling ill or are at risk of contracting the virus. These practices are informed by Health Canada (Canada.ca/coronavirus) and the Government of Saskatchewan (Saskatchewan.ca/coronavirus)

We have limited the number of team members working in smaller spaces at any given time. We have also started controlling the number of shoppers in our locations and will expand this practice as needed.

Signage, physical barriers and visual cues have been installed in all of our locations to remind our guests of proper social distancing and other health and safety practices while shopping.
Locations have limited the amount of people in the store at one time as per the legislation.
We have adjusted store hours at many of our locations to continue to serve you through this time of adversity. These hours can be found here.

We have cancelled or postponed all staff and customer gatherings until further notice.
HOW YOU CAN HELP
Please remember to practice social distancing at all of our locations.

If you are ill, have travelled internationally in the past 14 days, or have been in contact with someone who has contracted COVID-19, please do not visit our locations.

Please shop alone if possible. We ask that people limit the amount of time spent in the store.
We encourage the use of credit or debit card, rather than cash, as a form of payment. Please tap when possible.

Please be patient and kind to our team. They are going above and beyond.
If you would like to pick up your items outside at any of our locations, please call the store number and we will be happy to accommodate.
We are all experiencing situations that none of us have encountered before and we are grateful to be part of communities that will continue to thrive through this adversity.
If you have any questions or concerns, please contact our Administration office at 306.882.2601 and we will be happy to help! We appreciate your patience and understanding. We're all in this together.