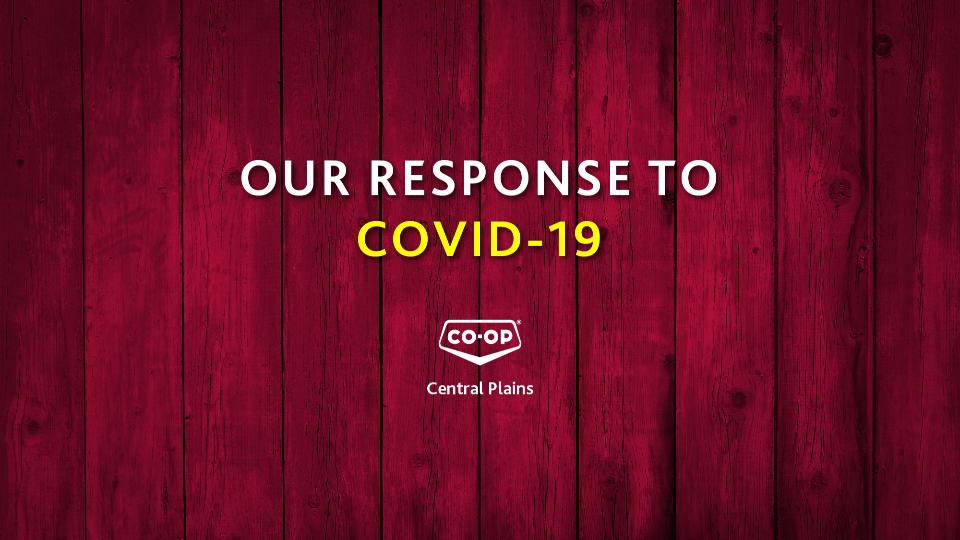 Our Response to COVID-19
March 30, 2020
As the COVID-19 situation evolves, we are keeping true to our value of being community-minded through integrity and taking every measure to protect our customers, staff and communities. We have been monitoring the situation through the Government of Canada as well as local government and public health authorities to ensure we are making appropriate, timely and informed decisions.
We understand the vital role we play in the community and aim to serve you with the items you need, when you need them. It is also imperative to take personal responsibility and remain vigilant during this time. We are doing our part to flatten the curve and prevent the transmission of infection within our community.
We are taking the following precautionary measures:
Our stores are cleaned and sanitized daily as part of normal business, and we have increased the frequency and intensity of cleaning practices, especially on high-touch surfaces. There is a shortage of wipes right now, so you may not see any to wipe down your cart handle when you arrive. Please know that our staff are personally disinfecting each cart and basket frequently.

We have provided our team members with current information on prevention so they can stay healthy or stay home if they are feeling ill or are at risk of contracting the virus. These practices are informed by Health Canada (Canada.ca/coronavirus) and the Government of Saskatchewan (Saskatchewan.ca/coronavirus)

We have limited the number of team members working in smaller spaces at any given time. We have also started controlling the number of shoppers in our locations and will expand this practice as needed.

Signage, physical barriers and visual cues have been installed in all of our locations to remind our guests of proper social distancing and other health and safety practices while shopping.
All locations have limited the amount of people in the store at one time as per the legislation.
We have adjusted store hours at many of our locations to continue to serve you through this time of adversity. These hours can be found here.

We have cancelled or postponed all staff and customer gatherings until further notice.
HOW YOU CAN HELP
Please remember to practice social distancing at all of our locations.

If you are ill, have travelled internationally in the past 14 days, or have been in contact with someone who has contracted COVID-19, please do not visit our locations.

Please shop alone if possible. Family and group shopping is not permitted and we ask that people limit the amount of time spent in the store.

Please keep your reusable bags at home to avoid risk of contamination and utilize our plastic grocery bags.

We encourage the use of credit or debit card, rather than cash, as a form of payment. Please tap when possible.

Please be patient and kind to our team. They are going above and beyond.
LOCATIONS THAT ARE CLOSED TO THE PUBLIC
Administration

Call 306.882.2601 for inquiries and we will be happy to help!

Account payments can be made online, at the Food Store or mailed to Box 970 in Rosetown.

Agro Centres (Rosetown, Plenty & Landis)
Staff will continue to be in contact with our farm customers over the phone, text or e-mail.

Central Plains Co-op is doing everything in our power to ensure that we continue to receive product in a timely manner. We encourage those customers who can get product to the farm early to do so.

Customers visiting Central Plains Co-op Agro Team locations to pick up product, please call ahead of time to schedule your pickup. When arriving, please remain in your vehicle and let us do the work.

Customers receiving product deliveries on-farm, please distance yourself from the driver.
ADDITIONAL CHANGES AT OUR FOOD STORES & PHARMACY
Rosetown Food Store customers, a maximum of 25 people at one time are permitted into our Rosetown Food Store to assist with social distancing.

Rosetown Food Store customers, please leave your Morning Mist Water Bottles in your vehicle when you come to the store to exchange them. Stop by customer service to let them know you brought water bottles and we will have one of our employees retrieve them from your vehicle and bring them in via the back entrance of the store where they will sit untouched for 24 hours.

One way aisles have been installed at our Rosetown Food Store to help reduce the need to pass in close proximity to others.
We are offering shopping from 8:30am-10:30am at the Rosetown Food Store (with a maximum of ten customers at one time) and from 9am-10am at the Eston Food Store to seniors and those that have compromised respiratory and immune systems, in order to minimize their exposure to the virus.

Door drop delivery is offered to those within town limits who are in self-isolation from our Food Stores & Pharmacy.

Parking lot pickup is also available at the Rosetown Food Store. Please call 306.882.2605 when you arrive and provide your license plate and vehicle information. Please remain in your vehicle.

Pharmacy will no longer reuse prescription vials.

Deli Bistro in Rosetown is closed until further notice.
ADDITIONAL CHANGES AT OUR GAS BARS
Coffee & slush self-serve bars are closed until further notice.
ADDITIONAL CHANGES AT OUR HOME CENTRE
We are limiting the amount of customers in the store at one time to three.
We are still providing pick-up options so please call 306.882.2607 to place your order.
If you are interested in a quote for a larger project, you are encouraged to call 306.882.2607 prior to visiting the store so we can help you with your request over the phone.
KIDS' CLUB ACTIVITY BOOK
We mailed out an activity book to our Kids' Club members to provide something fun to do in lieu of cancelled events. If you did not receive a copy, please ask for one during your next visit to either of our Food Stores. A link at the bottom of this page has also been provided. If you have a legal size printer you can print one right form home!
If you are not a Kids' Club member, please click here to download the application form. It's FREE to join and you will receive newsletters with fun activities and info on upcoming events!
We are all experiencing new situations that none of us have encountered before and we are grateful to be part of communities that will continue to thrive through this adversity.
If you have any questions or concerns, please contact our Administration office at 306.882.2601 and we will be happy to help! We appreciate your patience and understanding. We're all in this together.