Annual General Meeting 2022
Actions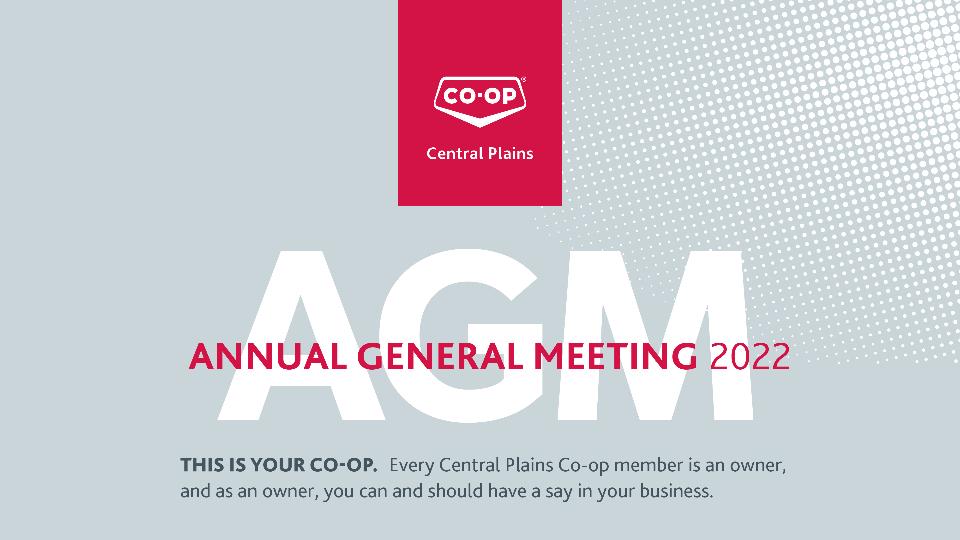 Annual General Meeting 2022
March 1, 2022
THIS IS YOUR CO-OP. Every Central Plains Co-op member is an owner, and as an owner, you can and should have a say in your business.
Wednesday, April 06, 2022. Call to order @ 7PM
Advanced registration is required and closes Wednesday, March 30, 2022 at 5:00 PM.
Please join us virtually on Webex, as our membership is spread across West Central Saskatchewan and all members need the opportunity to join in and have a say in our business.
Download the meeting package below to view the meeting agenda, previous AGM minutes and the Annual Report.
How To Register:
Email admin@centralplains.crs by Wednesday, March 30, 2022 at 5:00 PM. Include your name & membership number in the email and use the subject line "AGM Registration."
A link will be emailed after the registration deadline to members who registered for the meeting.
Those who submitted membership applications prior to Monday, March 07, 2022, will be eligible to vote.
Please send any questions in advance to admin@centralplains.crs no later than Monday, April 04, 2022.